Gilliam




Name
Name
Gilliam
Jp name
ギリヤム (Giriyamu)
Characteristics
Hair Color
Blonde
Eye Color
Scarlet
Personal Information
Status
Deceased
Race
Phoenix
Gender
Male
Relatives
Fuhito (Distant Relative)
Affiliation
Group
Royal Member
Debut
Manga
CH34
Anime
No Appearance
OVA
EP2
Seiyu
Japanese
Jouji NAKATA
English
No Seiyu
Gilliam is Second Prince and the First son of the current king of the royalty,
Appearance

Edit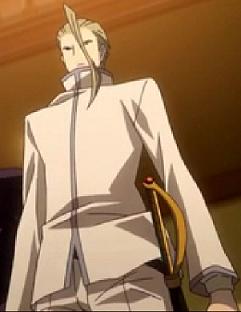 Personality

Edit
He is a gentleman. He has the qualities of a prince belonging to a noble family.
Like a werewolf he shows honor in a fight. He loves to fight with his sword.
Fighting Type

Edit
- Gilliam is a great swordsman, he uses this when he is involved in a fight.
Sword Being - The living sword that he wields.
Ordinary Sword - Sometimes he wields an ordinary sword.
Relationship
Edit
Flatirus is his personal android that serves him.
He used this bug when he fought Hime and Emile. It is also one of his Blood Warriors.
This sword is his Blood Warrior.
Blood Sucking Flowers
They live in his own body and suck his royal blood, in exchange he can manipulate them.
She is his second sister. His relation to hime is not good, but in the past he was the one who taught Hime how to fight.
Community content is available under
CC-BY-SA
unless otherwise noted.